In International Day of Innocent Children Victims of Aggression: International Alliance for Peace and Development calls for Protecting the rights of children
In conjunction with International Day of Innocent Children Victims of Aggression (4 June), International Alliance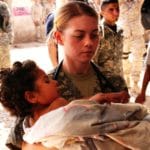 for Peace and Development calls for Protecting the rights of children and provide support to them, The Alliance asserts that Children need peace and protection at all times. The rules of war prohibit the unlawful targeting of civilians, attacks on schools or hospitals, the use, recruitment and unlawful detention of children. The Alliance demands that these rules need to be respected and those who break them need to be held to account.
calls for more efforts to protect the 250 million children living in countries and regions affected by the conflict. More than 34 million children living in conflict situations lack child protection services including 6.6 million children in Yemen and 5.5 million children in Syria. The Alliance calls for an end to violations of children's rights in areas of conflict and aggression and stresses that the international community should unite to stop violations Which are exposed to children in Syria and Yemen
More efforts must be made to protect children from targeting extremists, to promote international humanitarian law and human rights, and the Alliance recommends that children affected by war, displacement and traumatic events such as violence should be provided with specialized care to help them recover and overcome their hardships
International Alliance for Peace and Development is headquartered in Geneva, The IAPDA seeks to promote for peace and sustainable development all over the world. The IAPDA works to counter hatred, violence and extremism and to work side by side with the UN mechanism and other affective institutions all over the world.