European governments should refrain from linking Islam to terrorism
The International Alliance for Peace and Development publishes a study on "the far right in Europe Two Faces of One Coin"
In the context of the International Alliance's for Peace and Development concern with the rise of the far right in Europe, the Alliance's far right observatory conducted a study entitled "The far right and ISIS, two faces of
one coin," which dealt with monitoring the violence and terrorism perpetrated by the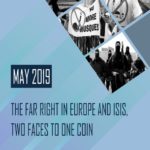 extreme right in Europe against Muslims and refugees, as well as the terrorist operations carried out by the terrorist organization in various parts of the world, and an analysis of these actions which have increased recently. The study attempts to clarify the similarities between both ISIS and the extreme right.
The study reached several conclusions, one of which is that one of the causes of extremism in Europe is based on nationalism, because some people fear the protection of their national identities. They fear the "Islamization of Europe" in reference to the fear of the spread of Islam there. Alleging that they are a source of threat and carry jihadist ideas and concepts such as a ISIS. On the other hand, the extremist organization of the terrorist ISIS stands on the basis of religion, showing their extremist ideology in their coordinated attacks in different parts of the world.
Therefore, the study stresses that the world must fight the ideology of the right, which is no less dangerous than an ISIS' ideology, and that both their terrorist threats is one thing. It is recommended that European governments should adopt new policies that promote a united front and refrain from blending Islam with terrorism. European governments must also activate their official policies that promote the full integration of migrants in European societies and reinforce the role of these policies in combating extreme right practices.
International Alliance for Peace and Development is headquartered in Geneva, The IAPDA seeks to promote for peace and sustainable development all over the world. The IAPDA works to counter hatred, violence and extremism and to work side by side with the UN mechanism and other affective institutions all over the world.